California Car Accident Lawyer
People always want to know if hiring a California car accident lawyer is important for their California auto accidents or personal injury case. The answer is yes!
It is always recommended that one should make it a top priority as it is to his or her best interest to retain an experienced and aggressive California car accident lawyer for their injury claim case.
Whether you have a motorcycle, truck, bus, pedestrian, train, boat, bicycle, ATV, and aviation crash injury case, do not try to face the insurance companies with the right skilled California car accident lawyer on your side.
So if you or a loved one is injured in an auto accident, a car accident lawyer California can help you in securing the most compensation from the insurance companies.  
In many occasions, when people get involved in any type of traffic collision or accident in California, they will think that it might be too small to file for financial compensation.
People need to understand that they can get compensated for their injuries regardless of how minor they are. Even if it is a minor fender bender crash one should seek a car accident lawyer to ensure the maximization of financial compensation.
One of the reasons it is important to seek an accident attorney representation during even a minor injury stemming from a fender bender is that you might not feel the pains now but in a few months later.
You want to make sure that your right is protected by seeking the help of a lawyer on time. Another reason to seek help for small accidents is that insurance companies are very notorious in trying to give small or no compensation for injuries, especially, fender benders.
Types Of Damages A California Accident Lawyer Can Help You Recover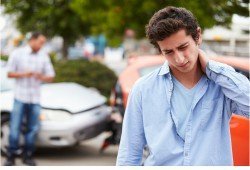 An experienced California car accident lawyer can usually help you recover all kinds of damages for your auto accident injuries.
When An accident occurs in California cities, someone is usually injured or property damage will occur.
You are entitled to compensation for your damages if an accident is not your fault. Damages in a personal injury case normally refer to your injury costs.
There are two types of damages you can claim. One is called specific or compensatory damages – these are damages related specific financial amounts you lost because of your injury.
The second is called general damages because they are subjective as you can't put a specific dollar amount to it. All in all, a California skilled car accident attorney can help you get compensation for:
Medical bills

Income loss
Potential earnings
Property loss
Emotional stress
Pain and suffering
Punitive
Consortium damages
Types Of Injuries One Can Get From Car Accidents in California
California auto and car accidents or other crashes come with different types of injuries.
Some of these injuries can be serious or just minor in nature.
Here are the type of injuries that may result from an auto/car crash or accident that a car accident lawyer can help you get compensated for:
Death
Back & Neck Injuries
Head & Brain Injuries
Cut & Laceration
Minor and Permanent Burns
Shoulder Injuries
Headaches
Broken Bones
Lost of Foot and Limbs
Regardless of the type of injury resulting from an accident because of someone negligence, a California car accident lawyer goal will be to try to help you get compensation.
Connecting You With Car Crash Injury Recovery Pros All Over The State
Our goal is to help you get connected with a California car accident lawyer or auto accident attorney all over the state who might be able to help you get the justice that you deserve. So if you are looking for any of the below contact us.
Next Step?  Contact A California Car Accident Attorney For Free Consultation On Your Serious Or Fender Bender Crashes
A California car accident lawyer could be your best option when you or your loved one is involved in a serious or minor auto accident that is caused by others negligence.
It will benefit you to seek their help.  You should seek help as these attorneys handle cases on a contingency fee basis which means that they do not get paid unless they recover financial compensation for you. They will then take a percentage of the financial recovery.
A skilled and experienced law firm can help you get paid for emotional, financial and physical sufferings from California car accidents. Call to get connected with someone today! The call is free.
Helpful External Links/Resources For California Accident Victims